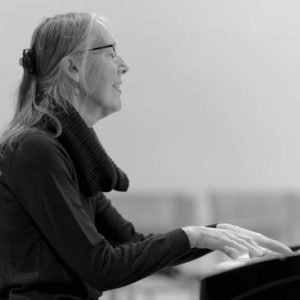 Christine Guillot is a Dutch pianist, accompanist and choirmaster with over forty years of chamber music experience. She decided as early as the age of eight that she would become a piano teacher and never looked back.
She studied piano in The Hague with Léon Orthel and in Rotterdam with Lli Van Spengen. After the obtention of her graduate music diploma, she fulfilled her dream of being a pedagogue, maintaining a busy teaching schedule. She also worked for thirteen years as a piano accompanist for eurythmy classes at the famous "Waldorf-schule" of The Hague, where she was able to give free rein to her creativity and developed her talent for improvisation. She then relocated to Saint Petersburg, Russia, where she studied choir direction and Orthodox liturgy for three years. She subsequently led the Russian Orthodox choir of Bruges, France, until 2018.
Since moving to France following her marriage, Christine has been dividing her time between concerts and teaching piano. She performs in various chamber music ensembles and is committed to reaching out to all audiences, organizing, among other things, events in prisons and retirement homes. She also forms a duet with singer Morine Stride since 2017.